Cart (

0

)
Recently Added

0

Item
Total

€0,00
The item you just added is unavailable. Please select another product or variant.

Cart (

0

)
Recently Added
Total €0,00
The item you just added is unavailable. Please select another product or variant.
We are working together to make 20.000 high-quality, reusable face masks in our production studio.
As an immediate response to the corona crisis, Makers Unite collaborates with
De Regenboog
for the production of reusable face masks for people in need. Due to the crisis we are facing, there is a serious need for face masks.
Photo Credits: Jakob Van Vliet
Not only in hospitals but also in homeless centers, homecare and walk-in homes everywhere in The Netherlands there's a shortage of face masks. These are places where the most vulnerable people of our society find shelter. In our production studio, we are working together to make 20.000 high-quality, reusable face masks. They are used by workers in care institutions, visitors and volunteers. 'We' are the newcomers in The Netherlands and part of Makers Unite. A community that uses creativity to bring people together.
"
There is a great shortage of mouth masks. In the medical world but also at the care and social organizations taking care of homeless and fragile population. For example at the homeless shelter of De Regenboog Groep (DRG), HVO-Querido, Salvation Army, refugee shelter at the ASKV and other professionals who are not in the 'front-line' of corona and for whom the face masks are in urgent need
" - Emma Ricketts - Project Coördinator
De Regenboog.
Hotels in Amsterdam generously donated bed sheets for the production of the face masks.
De Regenboog
collects these materials and provides them to Makers Unite. In our atelier, the team prepares the fabric for production. We cut, iron, sew and trim until we created the much needed high-quality face masks. Thereafter, they are brought to
De Regenboog
for washing, sterilization and the adding of a filter.
De Regenboog
then distributes the face masks to different organizations in need, and controls that
each filter is replaced after four hours of use.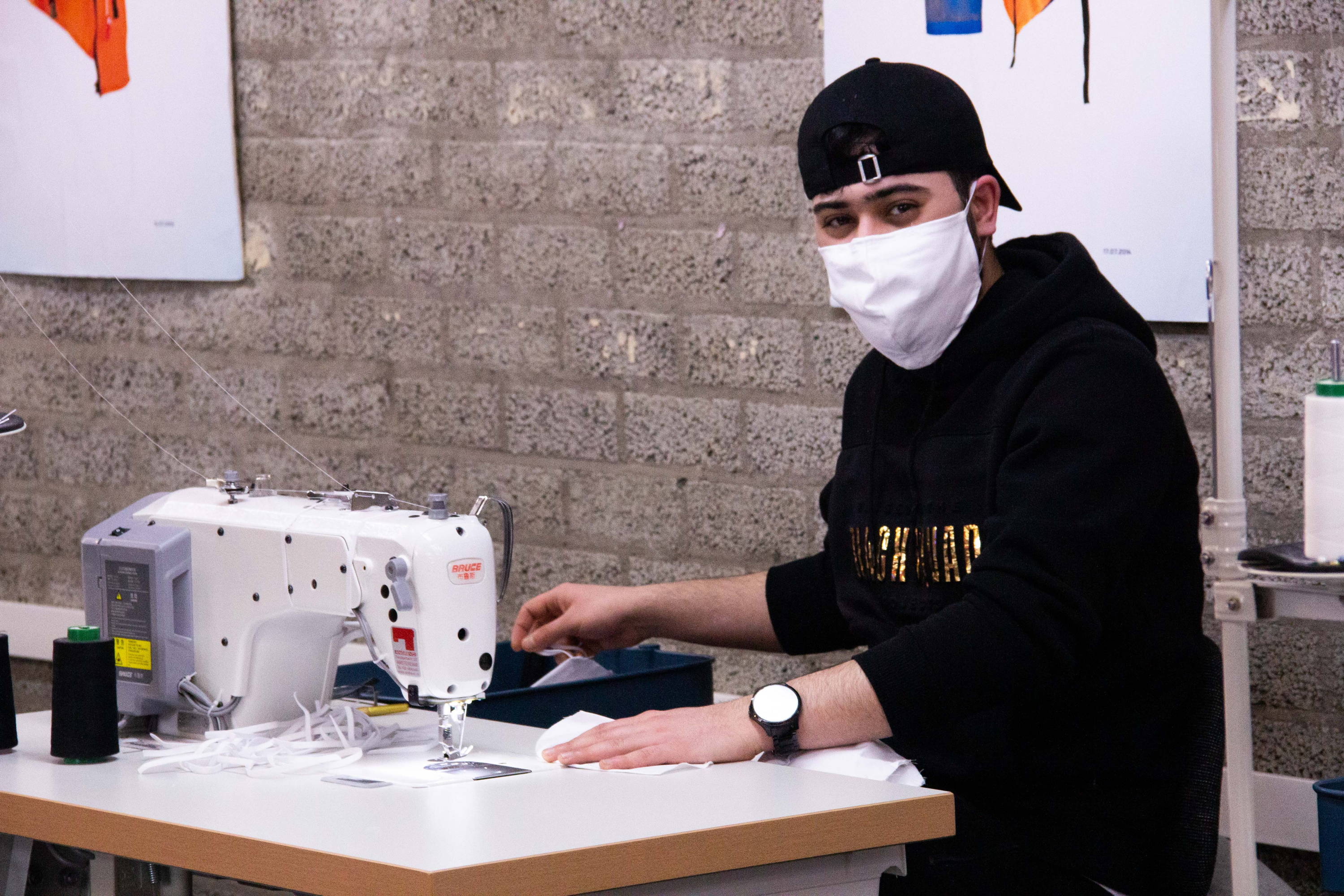 The origin of the collaboration

De Regenboog
initiated the
project PAM
together with
AMFI
and
Tandarts Praktijk Nieuw Amsterdam.
They developed a way to make the face masks reusable and received donations for textile to manufacture the masks. The designer of the face mask is
Jacob Kok
and the technical drawings were made by Bas Schaeffers. As we speak, there are groups of students and professional sewers working to fight the corona outbreak, and now Makers Unite joined forces as well sending a message of compassion.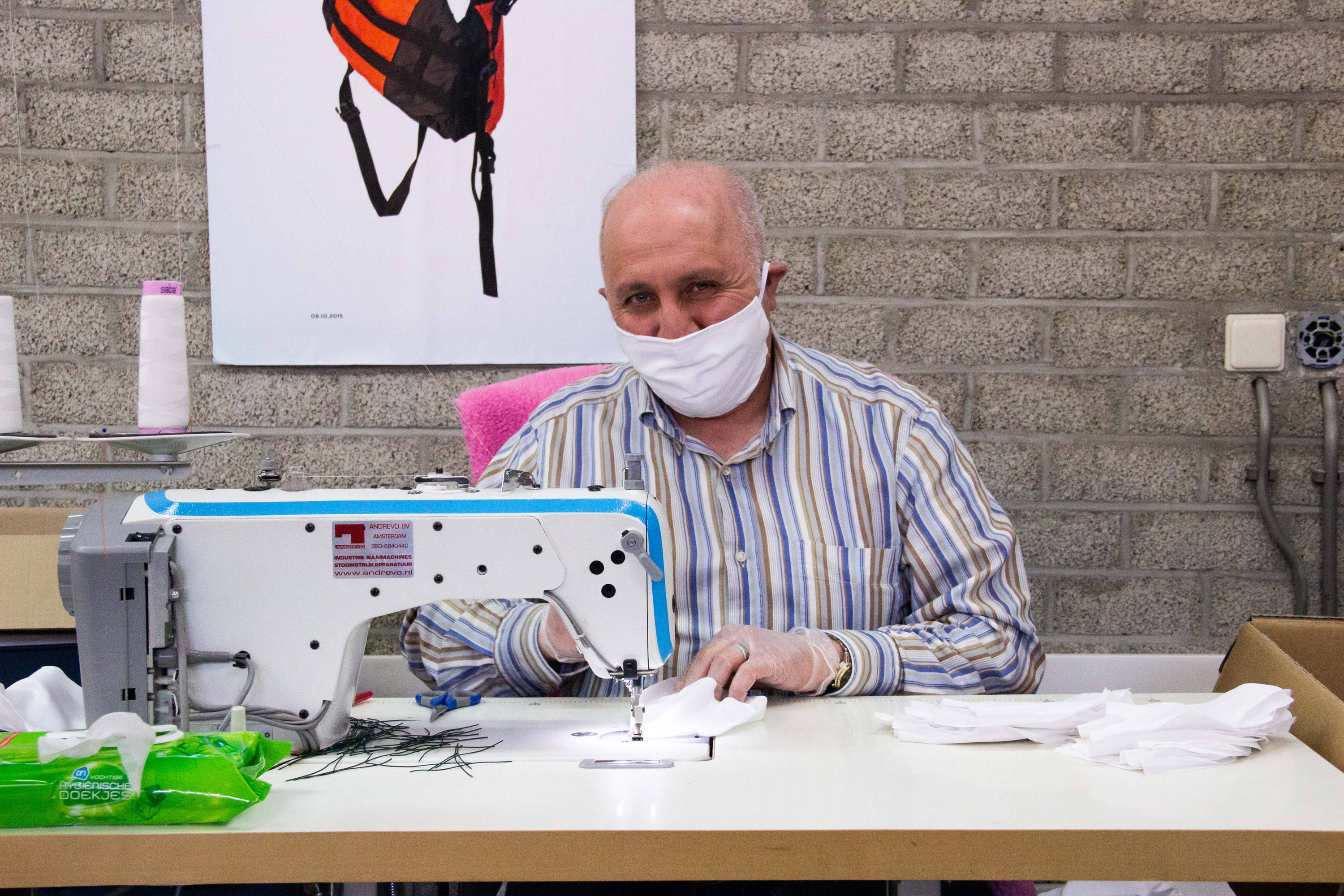 While the Dutch government blocked refugees of applying for asylum in The Netherlands due to corona, newcomers at Makers Unite are proving the value of helping each other producing face masks to donate to Dutch people in need.
Although we have been severely hit by the halt of orders, canceling of collaborations and per direct cut on our income, our team is sharing that more than ever is time to support each other. So we are doing the best we can with what we can contribute.
The project was initiated by Stichting De Regenboog Groep who designed the masks in collaboration with Tandartspraktijk Nieuw Amsterdam and students of Amsterdam Fashion Institute. They are not a replacement to the professional FFP2 and FFP3 masks, but are sterilised at 90C and can be recycled.
Where is my money going?
Your money is used to pay for utility costs and the income of the newcomers.

Can face masks protect us against the new corona virus?
No. Medical masks or any face mask cannot protect against the new coronavirus when used alone. When you wear them you must combine with hand hygiene and other preventive measures. The WHO recommends the use of the mask only in specific cases. If you have a cough, fever and difficulty breathing you should wear a mask and seek medical consultancy. However, if you are healthy but taking care of a person who might be infected, you should wear a mask whenever you are in the same room with that person. If you choose to wear a mask, handle it properly and clean your hands with soap and water or alcohol hand sanitizer regularly.
Is this face mask for people who are contaminated with corona virus?

This mask does not replace the FFP2 or FFP3 certified medical masks. This mask is a community response to the current shortage of face masks that institutions such as De Regenboog are in need of. The mask provides an extra barrier for transmitting the virus to others by trapping respiratory droplets (tiny saliva drops that go out of our mouth when we sneeze, cough and sometimes when we talk). However, people infected with the corona virus should be aware of not spreading the virus even more by simply staying at home. It is advised by the WHO that healthy people do not need to use a face mask. Masks alone can give you a false feeling of protection and can even be a source of infection when not used correctly. Masks should be only worn by people who work in healthcare, caretakers and those who are sick, with symptoms like fever and cough.
When Should I use a face mask?
If you are healthy, you should only wear a mask if you are taking care of a person with symptoms of corona. Wear a mask if you are coughing or sneezing. Masks are only effective when used in combination with frequent hand-cleaning with alcohol-based hand rub or soap and water. If you wear a mask, then you must know how to use and dispose it properly.

Can I buy the face masks Makers Unite is producing?

No, the face masks are for professional use only. They are being donated to
De Regenboog,
who then distributes them to the people who need them the most.